Let's Gather Together
Hebrews 10:24-25 says, "And let us consider how to stir up one another to love and good works, not neglecting to meet together, as is the habit of some, but encouraging one another, and all the more as you see the Day drawing near."
Explore how you can meet together, encourage others, and stir one another up at Zion.
Education Hour
Our adult classes meet on Sundays from 9:45-10:45am. We have several electives for you to choose from:
Pastoral Epistles (1 & 2 Timothy and Titus) with Pastor Keith in the North Classroom
Every Good Endeavor (theology of work) with Jon Papik in the South Classroom
Creation Regained (reformational worldview) with John Anderson in the Loft Room
People to Be Loved (biblical sexuality) with Pastor Tag in the Hearth Room
Just Looking (8-wk orientation class for those new to Zion) with Pastor Stu in the Library
If you have children, they are welcome downstairs during this hour in the nursery, gym, or youth room for their own care and classes.
Women's Bible Studies
All women are invited to join a Zion women's Bible study this fall! We have two groups that are meeting:
Elizabeth Vander Top will be leading this study in the Hearth Room on the book of Judges. Please contact Elizabeth if you need childcare.
*We will not meet on Nov.22nd, and our last meeting for the fall is Nov.29th.
Jan Wismer will be leading this study in the Hearth Room on the book of Colossians. Please contact Jan to RSVP.
*Our last meeting for the fall is Nov.17th.
Men's Monthly Meals
All men are invited to share a meal on the first Wednesday of each month.
Breakfast: Meet at 6:30am at Engine House Cafe (6028 Havelock Ave)
Lunch: Meet at noon at Hiway Diner (2105 Hwy 2)
Come to one or the other - or both if you can!
Zion Connection
On Wednesday evenings, we gather for a time of fellowship and teaching for the whole family. Dinner will be provided starting at 6:00pm, and then from 7:00-8:00pm, we have places for all ages:
If you would like to join our kitchen or cleanup teams, or have food allergies, contact Frances Bernhardson and Rachel Papik at connection@zionpca.com.
*We will not meet on Oct.5th, and our last fall Connection is Nov.16th.
Come and connect with each other on Wednesdays!
Men's Bible Study
All men are invited to the Thursday morning Men's Bible Study. We meet at 6:30am at Zion in the Coffee house and on Zoom. Ruling elder Lee Grossman is leading a study on the Gospel of Luke.
Adult Fellowship Communities (AFCs)
These groups are shepherded by our pastors, elders, and deacons. They are one way we organize social events, service opportunities, and small group fellowship. Find your AFC using the map below:
North Fellowship (NW of Pioneers & 56th)
South Fellowship (south of Pioneers & Hwy 2)
East Fellowship (east of 56th & north of Hwy 2)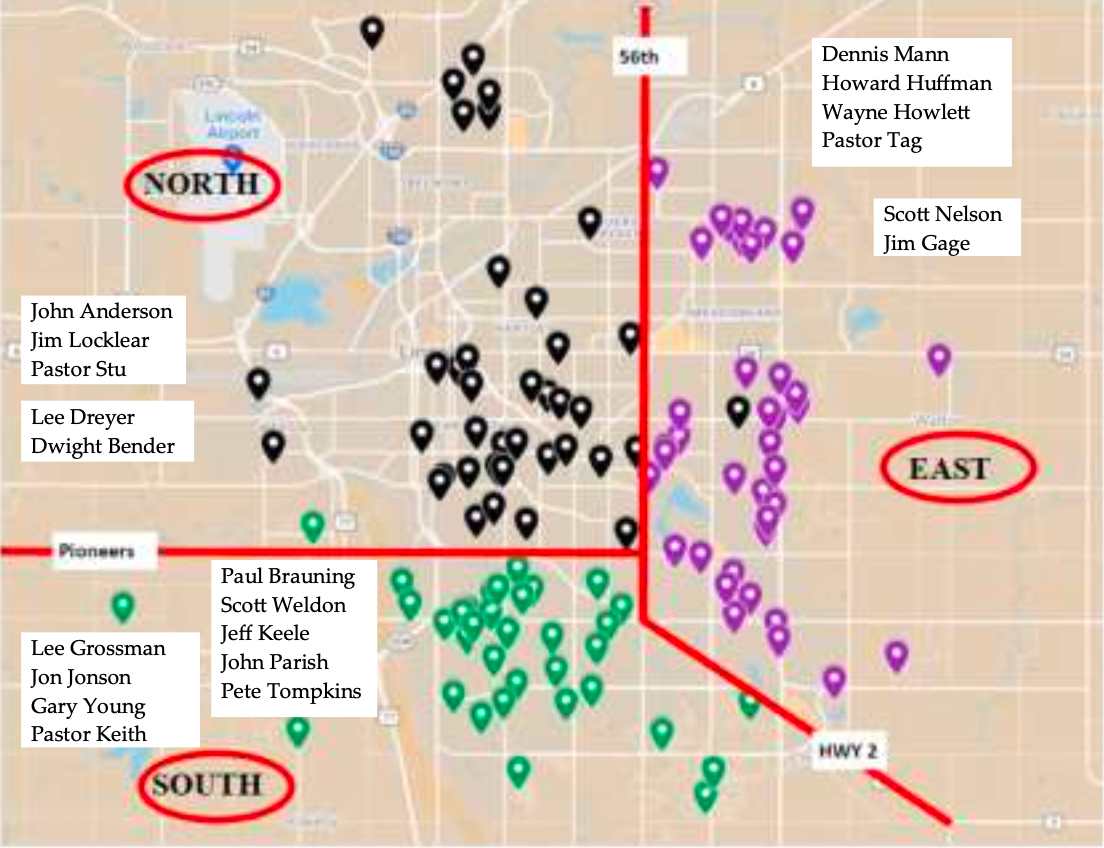 Got questions?
Be sure to check out our Calendar for more opportunities to connect and serve at Zion. You can also let our elders know how to pray for you this week.
If you have further questions concerning any of our groups at Zion or visiting a group for the first time, simply click the button below and get in touch with us!