Zion Nursery
The Zion Nursery aims to bless our families by allowing parents to worship and serve while knowing their children are in safe and loving hands. Nursery care assures parents and children that people of every age - even babies - have a special place in our church family. We are glad you are here!
Infant-side Nursery is for children ages 6 weeks up through "established walker stage", around 14-18 months.
Toddler-side Nursery is for "established walkers" to 3-year-olds. On the Sunday of the following trimester after their 3rd birthday, children will be moved up to the 3s/4s class.
Both rooms are located downstairs near restrooms. Nursery care is available during both services and also during Education Hour, as well as on Wednesday nights during Zion Connection.
What to Expect
Before Service:
First, fill out the provided nursery check-in card and clip this inside the nursery above your diaper bag at drop-off. Please take your toddlers to the restroom before drop-off and provide any special instructions to a nursery volunteer.
After Service:
When you pick up your child, please return your card to the basket outside the nursery, which contains tabs for cards to be alphabetized by last name. Pickup is only allowed by a parent or sibling who is at least 16 years old and has parental permission.
During Service:
Your check-in card gives our nursery volunteers the information we need to best care for your child during the service.
Contact info: Parents must remain in the building and be reachable by phone or text.
Allergies: Toddlers are given a mid-service snack of Cheerios. If you are sending an alternate snack please provide one that is gluten, dairy, and peanut free.
Naps: We do have a napping room with several cribs, so please let us know if you would like your child to nap.
Crying Policy: A little separation anxiety is to be expected, especially if this is your first visit. Our volunteers will do our best to distract, comfort, and calm crying children at drop off. Let us know your strategies and comfort level for soothing your child. If a child is inconsolable about 15 minutes, we will let you know via text.
We do track diaper changes with yellow and brown stickers on your child's name tag.
Health & Safety
Children will not be admitted if they have been ill within the past 24 hours. We will notify parents immediately if these symptoms occur while in the nursery.
All adult volunteers go through the steps of our Child Protection Policy, a background check, and Darkness to Light training. Youth volunteers serve alongside adults - this is a great way for families to serve together!
Meet our Nursery Director
Kelsey is married to Adam and they have one son, who always keeps them on their toes. She and her family have been attending Zion since fall of 2021. Kelsey enjoys working out, playing PS4, exploring locally, traveling, and spending time with her family.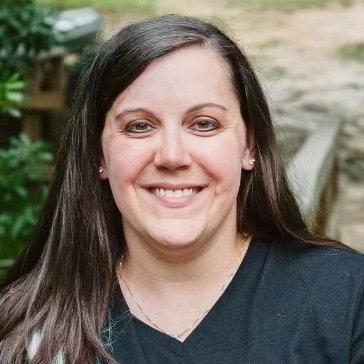 Got questions?
If you have further questions concerning Zion Nursery or visiting Zion Church with children, simply click the button below and get in touch with us!